We are award winning professionals in designing those stunning cakes for those stunning occasions and are always striving to produce for that growing trend for "something different".
A request for a wedding cake is both special and daunting. As reputable confectioners we understand and know this all to well. We are here to help and most importantly guide and advise you so that almost any ones dreams and expectations can be achieved.
A variety of styles and techniques are available and those traditional ideas of hundreds of years ago have not been forgotten; merely updated and modernised to respond to the demand of todays brides and grooms. Whether it is traditional, contemporary, novelty, vintage chic or dramatic, we can create that cake!
A truly stunning cake can only be created if all of the above are available due to peoples tastes, likes and dislikes and backgrounds both personally, at work and in their cultures. Rest assured though whether it be a design of your own or an existing design, whatever your choice we pride ourselves on our ability to be able to produce a quality cake that is unique not only in its flavour but also in its presentation.
Our wedding cake studio is based at our Wilmslow branch where over 20 styles are exhibited. There are a number of albums to browse through along with friendly advice from our team. Samples of the rich fruit cake along with a variety of flavoured sponges are available to sample on request.
The team look forward to meeting you to full fill yours and our aim of creating that stunning cake!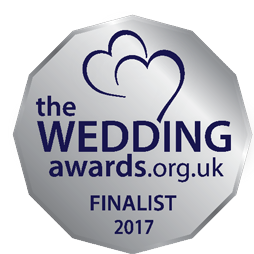 We are finalists for The Wedding Awards 2017. Vote for us here.